What did the Trump-Modi 'bromance' achieve?
US President Donald Trump expected 10 million people to welcome him in India on his first state visit. It didn't happen, but everything else seems to have gone according to the script.
.
The optics of the trip were crucial both for him and Indian Prime Minister Narendra Modi.
Mr Trump wanted to show people in the US that he was hugely popular abroad and that he was capable of negotiating good deals out of a country he once described as the "king of tariffs".
On the other hand, the Indian PM desperately needed some good headlines after being under the spotlight due to his controversial decision to revoke Kashmir's autonomy and the ongoing protests against his new citizenship law.
In the end, both leaders had their wishes fulfilled despite not agreeing on a much talked-about trade agreement.
Looking beyond the song and dance and pleasantries, here are some of the key diplomatic takeaways.
Good optics
The first day of the visit was all about optics - tens of thousands, if not ten million, lined up the streets to greet him on his way from the Ahmedabad airport to the Motera cricket stadium in Gujarat, the home state of Mr Modi.
At the stadium, he addressed more than 100,000 people. He evoked Bollywood, cricket and saints - good enough topics to get Indians interested.
It was a good speech - not just for the people in the stadium but also for his election campaign back home. The videos from the "Namaste (hello) Trump" event have already been used by his campaign.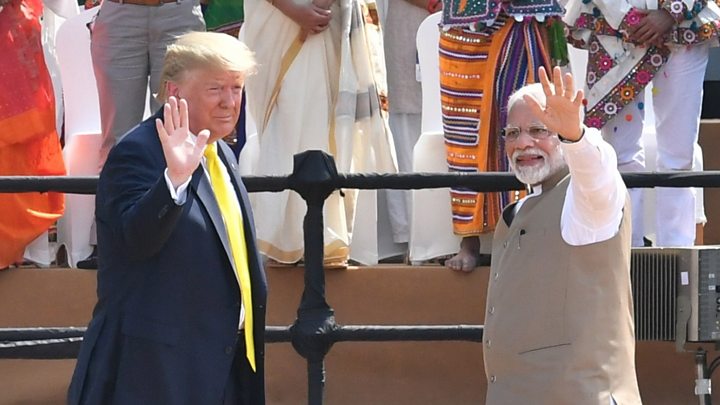 #Trending